We have three very high profile public figures who are personally supporting our expedition:
Ellen MacArthur MBE
Stephanie Cook MBE
Brian Jones OBE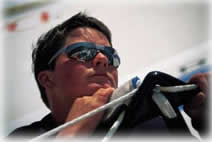 In February 2001, Ellen completed the Vendee Globe yacht race to an extraordinary and unforgettable welcome, becoming the fastest woman ever to sail single-handedly around the world. Her remarkable achievement ended in Western France in Les Sables d'Olonne having been at sea onboard 'Kingfisher' for exactly ninety-four days, four hours, twenty-five minutes and forty seconds giving her second place in the race.
Ellen is a heroine in France, where she has been named 'La Jeune Espoire de la Voile' (Sailing's Young Hope). More people gather down to the quayside to see her off on a race than fill Wembley Stadium for a Cup Final.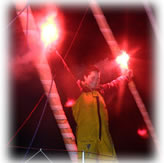 When Ellen, from Derbyshire, England was eight, an aunt took her sailing on the east coast of England, after which she was hooked. At school, she saved up all her dinner money for three years to buy her first boat, an eight-foot dinghy - during which all her spare time was spent reading sailing books in the library. By the time she was 18, Ellen had sailed single-handedly round Britain and won the Young Sailor of the Year award for being the youngest person to pass the Yachtmaster Offshore Qualification.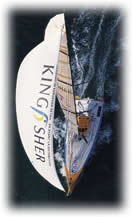 In 1997, with little money, no major sponsorship and not even a return ticket, she took the ferry to France, bought Le Poisson, a 21ft yacht, and refitted it on site. Her aim was the Mini-Transat solo race from Brest in France to Martinique in the French Caribbean. Ellen completed it in 33 days. This achievement brought Ellen her first major sponsorship from Kingfisher Group with the aim of competing in the Vendee Globe Single Handed Yacht Race 2000 - 2001.
Upon returning, Ellen has been trying to catch up with family in Derbyshire, pursuing future potential yacht races, and starting to work on the book that she has dreamt of writing for a number of years - due for publication in October 2001.


My Everest was the Vendee Globe. Now its your turn, don't give up!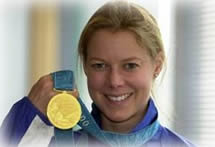 Stephanie Cook spectacularly won her gold medal on the last day of the Sydney Olympic Games in the women's modern pentathlon by coming through from eighth place at the start of the final discipline, the 3,000 metres cross-country.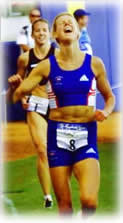 Stephanie, born in Ayrshire, Scotland, was 49 seconds behind American Emily deRiel before the running section but overhauled all the leaders with a brilliant final effort, overtaking deRiel with just 300 metres left. DeRiel took silver and a second Briton, Kate Allenby, won the bronze. It was Britain's 11th gold medal of the Sydney Olympics.
As an Oxford and Cambridge graduate reading medicine, Stephanie finally gained her medical qualifications in 1997, at which point she progressed from Varsity matches to a call-up to the national pentathlon squad, where she came fifth in her first World Cup event. In September 1999, she decided to put her medical career on the sidelines to fulfill her potential, and became a full-time modern pentathlete.


Have a great trip. I really wish I had the time to join you on this great
adventure that is achieving so much good for so many.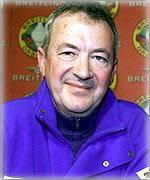 Brian made history with Swiss psychiatrist Bertrand Piccard by circling the globe non-stop in a hot-air balloon. It was described as the world's last remaining aeronautical challenge, and described in fiction a century ago by French visionary writer Jules Verne. In so doing they achieved the absolute world records for distance and duration by any aircraft type and class, and an altitude record.
On March 1, 1999, just outside the Swiss village of Château-d'Oex, the aviators stepped into the capsule of the Breitling Orbiter 3, a specially constructed 55-meter-tall balloon to begin their epic journey. 19 days, 21 hours and 47 minutes later they landed in Egypt near the Great Pyramids of Giza in what has now been acclaimed as the greatest ever triumph of ballooning.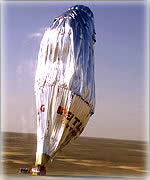 In 1993 Brian moved into full-time ballooning, selling his own business - a company supplying catering equipment to the hotel and restaurant trade. This allowed him to focus his efforts on what had become his real passion. He specialised in helping new passenger operating ballooning companies to set up, and was Chief Pilot for four such companies. He was appointed by the CAA as a pilot examiner and became the Training Officer for the British Balloon and Airship Club, where he was responsible for the training and appointment of all British balloon flying instructors. In 1997 he joined the technical team for the production of the Breitling Orbiter 2 round the world balloon, and by 1999 he became project manager and a full pilot for the team.

Remember guys, the only way to fail is to quit. There were moments in our flight, just as there will be moments in your challenge, when things seem hopeless. Good luck to you all.