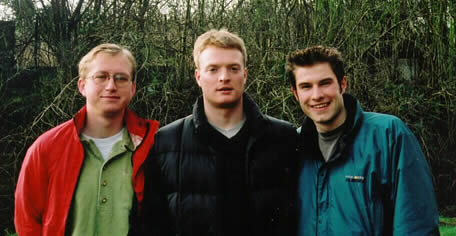 | | | |
| --- | --- | --- |
| Adrian Snell | Matt Ward | Andy Hay |
Adrian Snell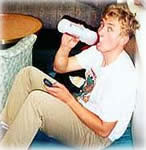 I'm from the sunny South coast in Bournemouth. A keen cyclist since the age of 16, I have raced in time trials, mountain biking and road races for 6 years with some success. More recently my racing has concentrated on mountain bike orienteering competing at national level and abroad. Before I discovered cycling all my efforts were focused on dinghy racing. At the peak of my success I was sailing for the country in the Optimist dinghy in national and European championships.
I have been on many independent cycle trips, including cycling through France, Northern Morocco, Spain, The Czech Republic, Mallorca and a nice week sunning myself on a bike in Jamaica. My role on the trip amongst others will be to oversee the maintenance of the website and, knowing the others, probably doing all the bike maintenance too!
Matt Ward
I'm originally from picturesque Canterbury in Kent. I love the outdoors and enjoy many sports, mountaineering and flying - I was lucky enough to complete a Private Pilots Licence and have enjoyed many glider flights. I also enjoy cycling! A few months ago I rode non-stop from Bath to Paris (225 miles/ 360km) in 22½ hours total travelling time (including ferry) - this, I think, proves my lack of sanity and qualifies me for this adventure.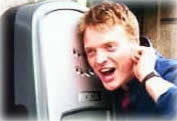 I've been around a bit (so to speak) and have visited Morocco, the Alps and worked/travelled in Australia and the US. I've also done several events for charity in the past (the Paris Marathon, charity hitch-hikes, other cycle rides, etc).
Why do I want to do this trip? The diversity of culture; the beautiful sights en route; the challenge of completion; enough exercise to burn off all those crisps I've eaten over the past few months and a chance to raise lots of money for charity. This trip sells itself... except for the shady characters I have to go with...
Andy Hay
Hello! I'm currently studying Aerospace Engineering with German at the University of Bath, though I am originally from Darlington in County Durham, way oop in the North East. I am a lover of cycling, mountains, travelling and Monty Python - all of which might help, in varying degrees, with this little adventure of ours.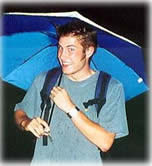 I've been mountain biking for years, and nowadays I tend to concentrate on the endurance and orienteering side of the sport. I've even been quite successful on occasions too: Porelle Polaris Challenge (1st, Under 21 Team, March 1998), Trail Break Wight Diamond Challenge (2nd, Senior Men Team, May 1999).
I've travelled all over Europe (mainly the hilly bits) and in South-East Asia (mainly the sunny and sandy bits), and I've been dreaming of doing 'something completely different' after university for a long long time now. Obviously, this is what 5 years of studying does to you! I've always wanted to be an explorer - discovering new and exciting places, and I've dreamed of cycling in the Himalaya, and visiting India, Nepal and Tibet for many years. This little adventure will give me the chance to pursue those dreams and ambitions - and do something very worthwhile by raising cash for charity too. I just can't wait to do it!